Process Fluid Dynamics and Turbomachinery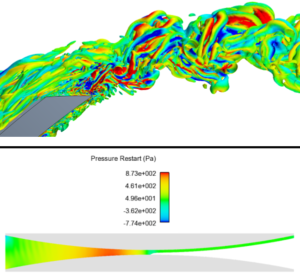 The research group "Process Fluid Dynamics and Turbomachinery" deals with fluid mechanical and thermodynamical processes in the fields of process-, food- and medical engineering as well as development, design and optimization of turbomachines. Aside from the academical research the group successfully collaborates with industry.
In the field of turbomachinery the research group has long-term experience in designing and optimizing blowers for household appliances. Additionally, fans and blowers for special purposes are a main area of research, for example fans for respiratory devices, tunnel ventilation or large-scale blowers for pyrolysis plants. The group also has great expertise in the field of centrifugal pumps, especially pumps for wastewater applications.
The research field of process fluid dynamics is mainly filled with topics from life sciences. Core topics here are personalozied respiration and coating of transdermal therapeutical systems as well as novel cooling and drying technologies for food processing technology.
Based on the application the research group works with analytical, numerical or experimental methods.
Topics
Erosion optimzed blowers
Modeling erosion in turbomachinery is still a challenge to many academics and constructers. Although many models may exist, it is still mainly empirical and experimental. Through this work, it is to numerically study erosion in turbomachinery and to develop new turbomachinery design methods capable of producing low erosion fans and pumps and to develop existing erosion models to better describe its effects. The benefit of these methods regarding erosion are studied through CFD simulation coupled with erosion modeling as well as through experiment.

Methods
Software
ANSYS CFX, ANSYS Fluent, ANSYS Polyflow
Siemens Star-CCM+
Flow-3D
OpenFOAM
Siemens NX
MATLAB
LabVIEW
Test benches
Test rig for centrifugal pumps
Suction side test chamber for small fans and blowers
5 generations artifical lung test bench
Publications
2019
2018
2017
2014
2012
2011