Nano- and Microfluidics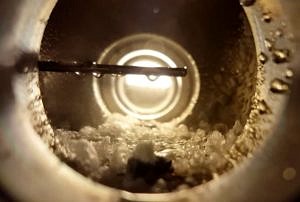 The main research focus of this new group is on the numerical simulation of natural and engineering flows at small scales, a field known as microfluidics. Here, viscous forces tend to dominate over inertial forces and volume forces that are usually dominant at large scales, such as gravity, play a minor role in comparison to surface forces such as capillarity. At even smaller (submicrometric) scales the continuum hypothesis breaks down and we enter the domain of nanofluidics, where the behavior of individual molecules must be considered. Microflows and nanoflows are relevant to a vast number of applications in chemical and biological analysis and medicine.
Besides microfluidics and nanofluidics, the group's research interests include shear and rotating flows, and heat transfer. Of particular interest here is the transition to turbulence as fluid velocities increase, a process crucial to fluid transport applications (pipelines) and also geophysical and astrophysical flows (accretion disks).
The research methodology of the group combines modeling and theory with accurate computer simulations of the equations of fluid motion. The results are analyzed with statistical and visualization tools to better understand the physics of fluids. In addition, we perform experiments to accommodate and validate the simulations, focusing on high pressure processes.
Projects
2018
Systematische Studien zur Schaumprävention und -inhibierung durch Identifikation von Grenzflächen-Nichtexistenz-Domänen und ihre Realisierung mittels adaptiver Gestaltung von Kolonnenfüllkörpern und -packungen

(Third Party Funds Single)

Term: 1. July 2018 - 30. June 2021
Funding source: DFG-Einzelförderung / Sachbeihilfe (EIN-SBH)
2017
Lebensmitteltechnologische Potentiale der innovativen, ressourcenproduktschonenden Gashydrattechnologie am Beispiel von ausgewählten Säften

(Third Party Funds Single)

Term: 1. April 2017 - 31. March 2020
Funding source: Bundesministerium für Wirtschaft und Technologie (BMWi)

Die Trocknung bzw. das Entfernen von Wasser stellt in der Lebensmittelherstellung eine zentrale Grundoperation dar, die hinsichtlich des Erhalts der Qualität und der Menge der zu behandelnden Produkte hohe Anforderungen stellt. So kann eine Reduktion des Wassergehalts einerseits dazu beitragen, dass Produkte ihre Funktionalität erhalten, während der Weiterverarbeitung und bei der Lagerung weniger anfällig sind oder dazu, dass Kosten für Verpackung, Lagerung und Transport eingespart werden. Andererseits besteht für diesen Produktionsschritt die kontinuierliche Herausforderung, nachhaltige und ressourceneffiziente Verfahren zu entwickeln.
Das klassische Verfahren zur Konzentrierung von Lebensmitteln ist die Verdampfung. Um den damit potentiell verbundenen Verlust oder die Beschädigung von leichtflüchtigen oder hitzeempfindlichen Stoffen, wie Phenolen oder Vitamin C, zu vermeiden, wurden alternative Verfahren, wie Membranverfahren oder die Gefrierkonzentration, entwickelt. Der Wasserentzug mittels Gashydrattechnologie ist hingegen ein in der Le-bensmittelindustrie bislang noch nicht etab-liertes Verfahren. Eine Konzentrierung von flüssigen Lebensmitteln mittels Gashydraten bzw. CO2-Hydraten wurde bisher lediglich im Labormaßstab und bei Säften, im Speziellen bei Orangen- und Tomatensaft, durchgeführt. Erste Studien zur Konzentrierung  von
Orangensaft mittels Ethylen-Gas (C2H4) wurden 2014 durchgeführt und erreichten maximale Konzentrierungsraten von 99,3 %. Unter Einsatz von CO2-Gas konnten vergleichbare Konzentrierungsraten erzielt werden. Eine Abtrennung von Wasser durch Gashydratbildung wurde auch im Bereich der Zuckerproduktion untersucht, da hier der Energieeinsatz zur Wasserabscheidung (Konzentrierung) sehr kostenintensiv ist. 
Entwicklungen zum Einsatz von Gashydraten zur Wasserabtrennung finden bisher ausschließlich außerhalb Deutschlands statt und fokussieren auch nicht auf die erreichbare Produktqualität. Ziel des Forschungs-vorhabens ist es daher, am Beispiel von Fruchtsäften (Apfel-, Orange- und Sanddornsaft) zu untersuchen, ob sich die Gashydrattechnologie zur Konzentrierung von flüssigen Lebensmitteln eignet. Dabei soll CO2 als Arbeitsmedium eingesetzt werden und eine Prozessbewertung und -optimierung hinsichtlich der Effizienz des Material- und Energieeinsatzes unter besonderer Berücksichtigung der Produktqualität und des Scale-ups erfolgen. Dies geschieht systematisch im Vergleich zu etablierten Verfahren und unter besonderer Berücksichtigung von Prozessvariationen, welche mithilfe einer globalen und lokalen Modellierung abgebildet werden sollen. Dazu wird im Rahmen des Vorhabens außerdem quantifiziert, wie sich unterschiedliche Prozessbe-dingungen auf die Produktqualität auswirken und welche Prozessierungsansätze auch auf größere Maßstäbe übertragen werden können und damit für den industriellen Einsatz geeignet sind. Hierdurch schafft das Vorhaben belastungsfähige Grundlagen für das Design gashydratbasierter Verfahren und Produkte mit besonderer Eignung für einen Einsatz in KMU.
Topics
The currently or recently studied topics are split in two groups.
Simulation

flows in micro and nanochannel
bubble flows
thin film flows
capillarity and surface tension phenomena
holistic mass and energy simulation

High pressure processes

high pressure engineering
hydrate technology
measurement under high pressure
Methods
The numerical simulation of the Navier-Stokes are performed in the group using several methods depending on the particularities of the problem at hand:
Finite-difference methods
Finite-element methods
Molecular dynamics
Simulations are run in High-Performance computing clusters of Regionales Rechenzentrum Erlangen (RRZE) which allow us a fast computation of even extensive simulation of the numerical codes.
Experiments are performed in various high pressure cells of up to 7000 bar, allowing for optical access and modular components.
Publications
2022
2021
2020
2019
2018
2017
2016
2015
2014
2013
2012
2011
2010
2009
2008
2007
2006